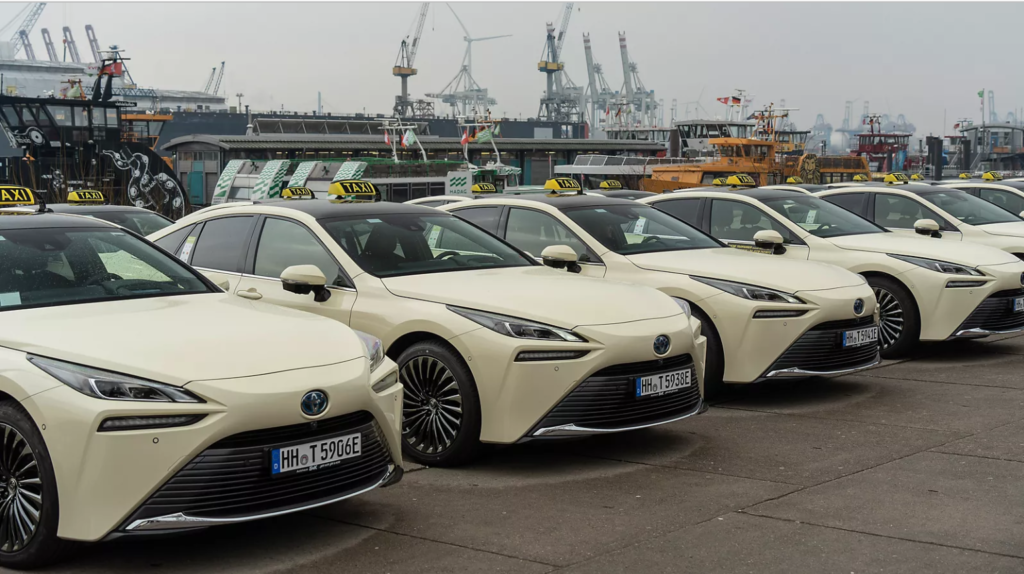 26/03/2023
25 Toyota Mirai now in operation in Hamburg
Hydrogen taxis are now on the streets of Hamburg, with 25 Toyota Mirai now in operation. The largest taxi company in Hamburg, Best Taxi, have now incorporated the Mirai cars in their fleet operation. The fuel cell cars offer long range and quick refuelling while emitting nothing but water. By January 2025, only taxis that are emission-free will be able to receive a new license in Hamburg. It will be the first German city to introduce this regulation, while 12 percent of Hamburg's taxi fleet are already zero-emission vehicles.
The fuel consumption according to WLTP: hydrogen combined 0.9-0.8 kg/100 km; combined power consumption 0 kWh/100 km; CO2emissions combined according to WLTP 0 g/km.
The fleet of fuel cell limousines was handed over from the Autohaus S+K to Hamburg's Best Taxi. The handover was attended by, among others, Anjes Tjarks (Bündnis 90/Die Grünen), Senator for Transport and Mobility Transition, Ali Simsek, Member of the Hamburg Senate (SPD), Alexander Mönch, President of the DACH region at Free Now, Thomas Schalberger, General Manager Press and Public Relations at Toyota Deutschland GmbH as well as Mathias Süchting and Carsten Schulz from the management of Autohaus S+K.
"In a large city like Hamburg, the taxi industry is an important driver towards sustainable mobility and we are pleased to be able to make our contribution to this development," says Carsten Schulz, Managing Director of Autohaus S+K GmbH. The hydrogen fuel cell drive is a particularly sustainable and practicable solution that also contributes to improving air quality in the city."
Read the full article here