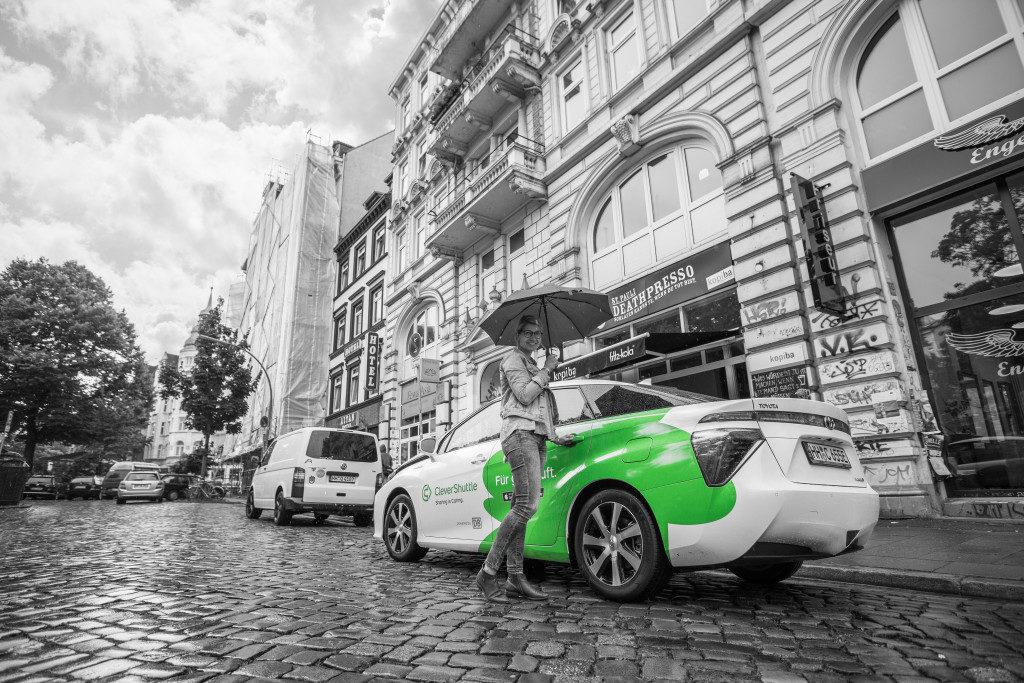 17/04/2020
CleverShuttle Travels over 5,000,000km with Worlds Most Used Mirai Fleet
The most used Mirai fleet in the world: the environmentally friendly CleverShuttle service has covered over five million kilometers with Toyota fuel cell vehicle within two and a half years.
In use at serveral German locations since September 2017
CleverShuttle is a leading provider of ride pooling
No technical problems and unlimited performance
Cologne – With its Toyota Mirai fleet (combined hydrogen fuel consumption 0.76 kg / 100km; combines power consumption 0 kWh / 100 km; combines CO2 emissions 0 g / km), the ridesharing CleverShuttle has over five million kilometers zero emissions within two and a half years unwound. This corresponds to the six and a half times the distance from the earth to the moon and back.
CleverShuttle is Germany's leading ridesharing provider and uses the most used Toyota Mirai fleet in Germany. The coperation began in September 2017 with an initial 20 Toyota Mirai in Hamburg, and the fleet was expanded to 45 vehicles at several locations.
Bookings are made via an app, customers are picked up at  the desired location and driven to the desired destination. By bundling passengers with similar routes, the driver service ensures low prices that are up to 40 percent lower than usual transport prices for conventional taxis.
"The experience of driving dive million kilometers shows that fuel cell vehicles are already perfectly suitable for everday use," says Ferry MM Franz, Director Toyota Motor Europe, Berlin. "No technical defects whatsoever and the unrestricted performance of the fuel cell, with top milage of almost 200,00 kilometers per vehical, prove that durability is guaranteed at all times," Continues Franz.
The Toyota Mirai was presented in 2014 and has been available in Germany since 2015. It can be ordered by both private and commercial customers. As a luxury website vehicle, the fuel cell sedan offers its occupants maximum confort and maximum environmental friendliness thanks to the four individuals seats: the emission-free Miral requires only hydrogen for propulsion, which converted into electrical energy in the fuel cell and the 11 kW / 154 hp electric motor drives.
It can travel up to 500 kilometers on one tank, and refuelling takes just three minutes. Private and commercial customers can order the Toyota with a maximum range of 1,000 kilometers and a maximum speed of 200 kilometers per hour.