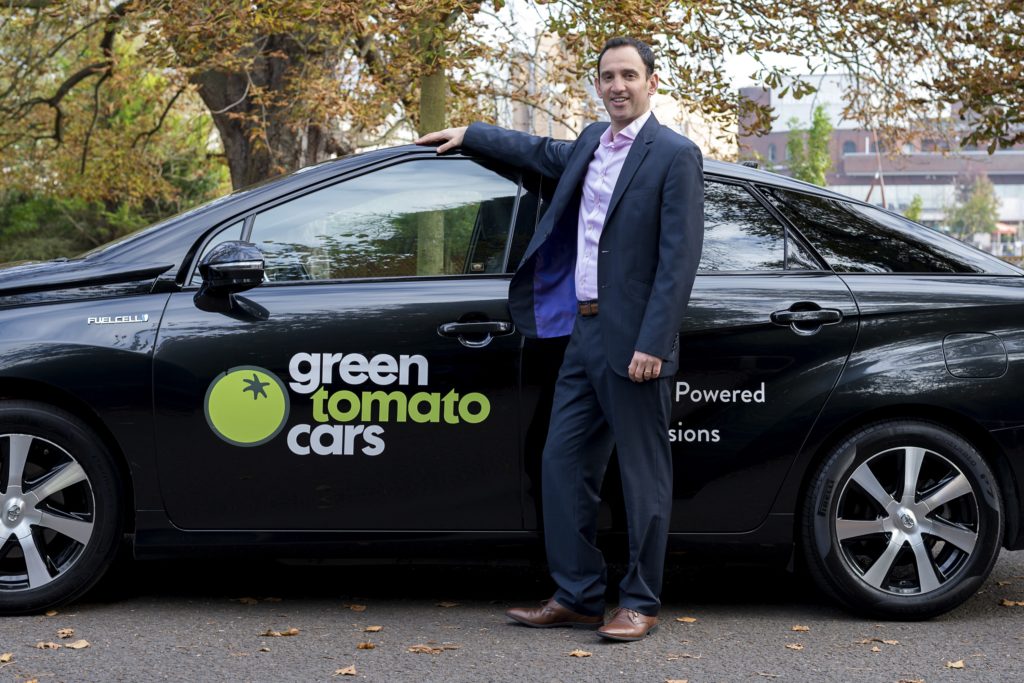 13/11/2019
Greener cars for Green Tomato
A private taxi firm in London now boasts Europe's largest zero emission corporate fleet with more hydrogen powered vehicles added this month.
The 25 new Toyota Mirais (which means 'Future' in Japanese) deployed to Green Tomato Cars will double the size of their hydrogen fleet, taking the total number of hydrogen vehicles to 50, and contribute to cleaner air and sustainable travel across the city. The vehicles use hydrogen fuel cell technology to deliver a range of 300 miles from a three-minute refuelling time and operate 24/7 in London and the surrounding area
Hydrogen fuel reduces the environmental impact of journeys as they only emit water from the exhaust, no other fumes or emissions are produced when a fuel cell in the car converts the gas into electricity. There are currently six Hydrogen Refuelling Stations available in the London area; international standards ensure compatibility between refuelling stations and vehicles.
Green Tomato Cars, Europe's first environmentally friendly car service, are part of a pan-European project to demonstrate viable business cases for fleets of fuel cell electric vehicles. ZEFER, part-funded by FCH JU, is a €26 million initiative that will introduce 180 of these vehicles into a combination of taxi, private-hire and police fleets across London, Brussels and Paris.
Air pollution presents a major threat to public health. The total mortality burden in London from poor air quality is equivalent to 9,416 deaths per year. The economic cost of these health impacts is estimated to be up to £3.7 billion.
Jonny Goldstone, Founder and CEO of Green Tomato Cars, said: "We've been really impressed by the performance of our Mirai fleet since we rolled them out 18 months ago. With our operating experience, increasing driver familiarity with the technology, and improving refuelling infrastructure, it's the perfect time to significantly increase our zero emission fleet. Our passengers love them because it means they can travel as responsibly as possible, and so do our drivers – running costs are comparable with a Prius and re-fuelling takes the same time as a conventional petrol car. They're the ideal complement to our executive plug-in hybrid, standard hybrid and people carrier fleet – and we hope there will be more to come in the near future."
Bart Biebuyck, FCH JU Executive Director, said: "Today, the air quality in cities is a central issue and the introduction of zero-emission vehicles is a needed shift to decarbonise urban transport. The fleet of 50 hydrogen fuel cell taxis operated by Green Tomato Cars in London is a flagship initiative showing that zero-emission solutions exist, do not change the way taxis are operating, and make economic sense. I trust that other cities in the UK and in Europe will soon realise the benefits of hydrogen mobility."
Notes to Editor
About the FCH JU
The Fuel Cells and Hydrogen Joint Undertaking is a unique public-private partnership supporting research, technological development and demonstration activities in fuel cell and hydrogen energy technologies in Europe. Its aim is to accelerate the market introduction of these technologies, realising their potential as an instrument in achieving a carbon-lean energy system.
The three members of the FCH JU are the European commission; the fuel cell and hydrogen industries, represented by Hydrogen Europe; and the research community, represented by research grouping Hydrogen Europe Research.
The ZEFER project has received funding from the Fuel Cells and Hydrogen Joint Undertaking under grant agreement No 779538. This Joint Undertaking receives support from the European Union's Horizon 2020 research and innovation programme, Hydrogen Europe, as well as Hydrogen Europe Research.

About ZEFER
This €26 million demonstration project is co-funded with €5 million from the Fuel Cells and Hydrogen Joint Undertaking (FCH JU), a public-private partnership supporting fuel cell and hydrogen energy technologies in Europe. The ZEFER project will demonstrate viable business cases for captive fleets of FCEVs in operations which can realise value from hydrogen vehicles. ZEFER will deploy 180 FCEVs in Paris, Brussels and London. 170 FCEVs will be operated as taxi or private hire vehicles and the remaining 10 will be used by the police.

About FCEVs
FCEV stands for Fuel Cell Electric Vehicle. FCEVs are a type of vehicle that uses compressed hydrogen gas as a fuel to generate electric power via a highly efficient energy converter, a fuel cell. The fuel cell transforms the hydrogen directly into electricity to power an electric drive-train. FCEVs have many distinguishing attributes including rapid refuelling, typically 3 minutes, long range, typically 300-400 miles, and zero harmful tail pipe emissions, with water vapour being their only by-product. Further information about FCEVs can be found on the H2ME website.